Above- (l to r): Jugovic, Torrisi, Vieri, Juninho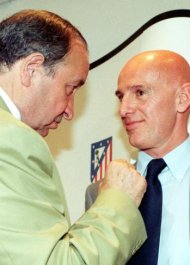 Sacchi and President Gil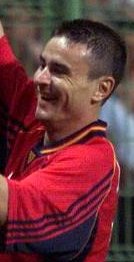 Aguilera for Spain
Could it be that Italian coach Arrigo Sacchi is ready to return to prominence? With one glance at the 1998-1999 Atletico Madrid, one must think an overwhelming YES. Athetico Madrid seems ready to recapture the glory of the 95-96 season, when they won the Spanish league and Cup: the elusive and prestigious double. This time, Atletico President has given full support to his coach, grabbing him some big-name players on demand. The road ahead is promising for Sacchi and Atleti...

Sacchi has added a notable air of confidence already to the team. His attitude is rather happy-go-lucky, while at the same time he realizes the great expectations on his shoulders. As he himself put it, with the current team, "How hard could it be?" Really, it is difficult in the face of the adversaries- especially the traditional giants of Spanish football. This season there is added competition from formerly small clubs, and many teams could be called dark horses to do well in the league. On the other hand, Atletico looks to have a team that can deal with the biggest of giants.

The Stars

In goal, Atletico is safe and sound, with Spanish international keeper Jose Molina underneath the cross bar. Molina could captain the team- he often emerges as a leader on the field. The defense became even more formidable this year with two notable additions- Argentine international Jose Chamot joined from Lazio and Italian central defender Stefano Torrisi joined from Serie A's Bologna. They join great defenders already with the club. Another new Italian is Fiorentina defender Daniel Serena, who has ample experience with big clubs. He won a UEFA cup with Juventus. Perhaps the best of them is Spanish international right back Carlos Aguilera. He was one of Spain's outstanding players in France 98. Once given the chance to start, he helped to shut down Paraguay and Bulgaria's attack. On the left defensive wing is Santi Denia, who has great international experience, and was also a part of the 95-96 champion team.

The Atletico de Madrid attack seems to be where the biggest threats lie, and it certainly is the strongest point of the team. The lead man and great star is Brasil midfielder Osvaldo Giroldo Junior, better known as Juninho. He recovered from a broken ankle in January of last season to make an explosive return in the last few games. Sadly the injury cost him a place in the WC Brasil squad. A new addition is Vladomir Jugovic, star Yugoslavian midfielder formerly of Lazio. He was signed after a WC in which he was probably the best and most consistent player on the national team. He and Juninho are sure to be the motor of the team. They will join long-time Atletico midfielder and Czech Republic international Bebjl, a defensive midfielder and key part of Sacchi's system. Roberto does not figure as much into the plans but will be a luxurious sub. New signings Mena (Argentina) and Valeron are young, exciting midfielders that could each earn places in the starting 11. They were both revelations last season at Mallorca. Jordi Lardin was great last year as a left wing that can also play the position of left forward. An important combination will be that of Juninho with Spanish international forward Kiko, who is always a team leader. He has a great touch on the ball for a big man, and he uses his power to get to many balls in the air. He is deadly in the penalty area as well, with a shot more accurate than powerful. To top things off, there is the goalscorer, last year's pichichi (league leader), Italian forward Chrisitan Vieri. Vieri was oustanding in the WC, scoring 5 goals to tie for second place on the WC scoring table. Likely substitute as a striker will be 21-year old Spaniard Jose Mari, another great revelation from last season.

Kiko and Juninho(top)
Vieri for Italy