Bielsa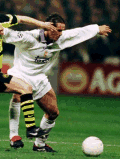 Redondo may return to the national team
Bielsa leaves Espanyol to coach Argentine Squad
Young coach Marcelo Bielsa, who was recently contracted by Espanyol of Barcelona (Spain), has quit the team before they played a single official match. As the media reports, the A.F.A. has offered Bielsa the position of National Coach, and he's determined to accept the proposal.
The weird thing is that Bielsa was proposed by the main aspirant to coach Argentina, José Néstor Pekerman, whose signing was imminent. Apparently Pekerman, who led Argentina to 4 world youth championships and 3 international tournaments winners, would be confirmed as General Manager of all Argentine Selections, leaving colleague Marcelo Bielsa the duty of coaching the grown up squad and Hugo Tocalli and Gerardo Salorio in charge of the prolific youth side. The rumour is that Ricardo Pizzaroti, current physician, will be the one to maintain his position.
Bielsa is a young coach, but a winner anywhere. First coached Newell's Old Boys and got a championship in 1992, beating the almighty Boca Juniors in two close finals. After that, he went to México where he lead colossus America (D.F.), the most important club in México, to a great season before he returned to his home Argentina and join Vélez Sarsfield.
The successor of Daniel A. Passarella followed Velez triunphal streak, winning the Argentine League with clarity and convincing performances. Then Bielsa agreed to travel once again, to Barcelona this time, even asking for the purchases of Argentine player Martín Posse, but the sudden offer of the Argentine Football Association, Julio Grondona, was too tempting to reject.
The departure of Bielsa will be sealed in a few hours, after several details will be arranged. There is a clause in Bielsa's contract that implies the rescision in case of being called for the National Team, so Marcelo Bielsa will return to Argentina in friendly terms with most of the Espanyol directives, though some of them wanted Bielsa to stick to the contract at any cost.
If the deal closes as it appears to be confirmed during the present week, you'll probably see some new faces in the National Squad of Argentina, f.i.:
MARTIN POSSE
PATRICIO CAMPS
CLAUDIO HUSAIN
MAURICIO PELLEGRINO
JUAN P. SORIN
RAUL CARDOZO
EDUARDO BERIZZO
ALDO DUSCHER
PABLO AIMAR
ROMAN RIQUELME
LEONARDO BIAGINI
ESTEBAN CAMBIASSO
FERNANDO REDONDO
MAURICIO POCCHETINO
PABLO CALANDRIA
As the result of the "convocatoria" of Pekerman and Bielsa. We'll keep you visitors updated and aware of the news on Argentina competition.
Fernando Troiani