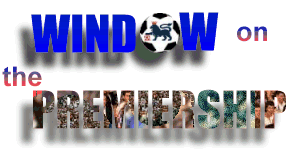 1998 Charity Shield Preview- GARY DOWDEN


Sunday sees the traditional curtain raiser to the new Premiership season, The
Charity Shield played at Wembley Stadium. Double winners Arsenal take on the
second placed club, the side that has dominated English football throughout
this decade, Man United. Despite being billed as a friendly, it rarely is
treated as such, so who will win??

United for their part will likely have Roy Keane back after a long 10 months
out through injury and no doubt he`ll be raring to go and along with Nicky
Butt, United have a ball winning duo in midfield that can mix it with the best
of them and the battles with the likes of Petit & Vieira will surely test
Keane`s fitness, injury and strength and could well decide who`ll win the
game. Up front United, having missed out on Patrick Kluivert and possibly
Dwight Yorke as well, will more than likely rely on Andy Cole and Ole Gunnar
Solskjaer, although the Norwegian is suspended from United`s opening league
game so Ferguson may have other plans. Will he play Giggs and new signing
Jesper Blomqvist, will David Beckham face an English crowd for the first time
since the World Cup, who will he play at the back?? Which brings me to the
defence. Peter Schmeichal we all know about, he`s earned United many points in
the past with his expert goalkeeping, the Neville brothers will surely appear
at sometime during the game, they may even start it, I`d guess at a back four
of Gary Neville, Dennis Irwin, Ronny Johnsen and the guy that interests me,
Jaap Stam. The dutchman had a mediocre World Cup at best and with United
spending something in the region of 10m for him, then I`d expected much more
than I saw. Can he cope with the pace of the game in England, will he fit Gary
Pallister`s position as the United fans will surely hope.
What will happen is that he`ll be tested by the likes of Dennis Bergkamp, Marc Overmars and young
Nicholas Anelka who I`m really looking forward to seeing more of this season.
Arsene Wenger will likely play the guessing game as to his starting eleven as
will Alex Ferguson, but I`d like to see the pairing of Anelka & Bergkamp with
Overmars out wide or bursting from midfield. I`ve already mentioned the
midfield battle so at the back I`d guess that he`ll begin with the tried &
tested `English` back four that`s served Arsenal so well during the past
decade, Dixon, Winterburn, Adams and Keown with of course David Seaman in
goal. This will probably be the final season together for these four superb
professionals and may even be there final Wembley apperance, who knows. What
is certain is that both clubs have talent in depth, they have the ability to
beat any team on any day and they`ll both be fighting for silverware this
season. Arsenal beat Man United at Highbury and Old Trafford last season and I
think they`ll win again at Wembley on Sunday although only by an odd goal
either 1-0 or 2-1. Let`s hope for a great start to a new season in the
Premiership.


--
Gary Dowden - Joint Administrator (ISFA) Premiership Mailing List
Leeds United and Scotland and proud of it
---
Return to Futbol World
---