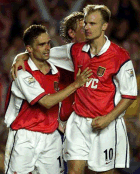 Overmars and Bergkamp, 2 of the "in style" foreigners of Arsenal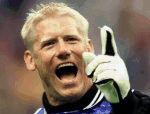 Peter Schmeichel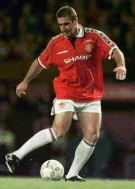 Cantona, a legend


The effect of foreigners in the FA Carling Premiership

BY Gary Dowden
A couple of weeks ago there was an article that I read saying that the
Premiership and Nationwide leagues now have 57 different nationalities
playing within it. Think about it!! Fifty Seven!! I`d bet most of us would have
problems naming 57 countries off of the top of our heads. But how has
this affected the English game at the top club level??

Firstly let`s get one thing straight, the influx of overseas players is
NOT a new concept, you can go back to the 60`s, possibly even further, to find
foreigners in the English game. The late, great, Albert Johansen became
the first black player to play for Leeds United back in the 1960`s. It`s
only really recently, over the past decade or so that the incoming players
has hit epidemic proportions, don`t get me wrong, I`m not calling it a bad thing
as I`m about to clarify.

After the 1978 World Cup, Spurs signed Ossie Ardiles & Ricky Villa, two
members of the winning Argentinian squad, Ardiles went onto manage Spurs
and was a great success whilst Villa, aside from the 1981 Cup Final, was
largely a bit player, this was and still is echoed today. Around the same time
Birmingham jumped onto the Argentina band wagon and bought Alberto
Tarantini and Sheffield United as well with Alex Sabella who later signed for
Leeds. Neither of these were great successes either and I believe both went
back to Argentina. It continued to grow throughout the 1980`s, Man United signed
among others the likes of Jesper Olsen from Denmark and Jovanovic the
Yugoslav, Liverpool took on Avi Cohen from Israel, Arsenal signed another Yugoslav
- Petrovic, Middlesbrough took on little known Heine Otto, top scorer in
82-83 for them. There were of course many more, these are simply examples of
how some became almost household names whilst others will always reside in
the `WHO??` file. In the 90`s things took off, notably after World Cups or
major European competitions, Spurs big success was of course Jurgen Klinsmann
back in 94-95 and to a lesser effect this past season 97-98. Mixu Patelineen
played for a number of clubs in England or Scotland but was not a big hit at
any, Andrei Kanchelskis had a major impact at Old Trafford but not Everton
and once again the same system was being followed where success in the English
leagues was not guaranteed simply because you were a big name overseas player.

As we come to the present and recent past, we now have overseas
managers, originally Ruud Gullit who brought a good selection of Serie A to
Stamford Bridge, a policy continued by GianLuca Vialli and to be fair they`ve won
a couple of domestic trophies and of course the Cup Winners Cup so success
can be bought if done wisely, the biggest proof of which is of course Arsene
Wenger at Highbury who has imported a number of French and Dutch players
and as we know, won the domestic double last season with a mix of grit and
flair in the midfield, solidity at the back and Dutch courage up front!!

In fact Arsenal is a good example of why I`m in agreement with overseas
players entering the Premiership. Critics have said that it stops the
young English players coming through the ranks, possibly yes, however surely
if a player is good enough then he WILL make it, examples at Liverpool would
be quite obvious when you look at the currently injured Robbie Fowler and
the current darling of the media Micheal Owen. Both youngsters, both
extremely talented, both have come through the ranks to claim an almost automatic
place in the first team. Ray Parlour at Arsenal is another prime example, a
crucial member of the double squad and more often than not a first choice for
the first team and a surprise to me that he wasn`t taken to France 98.
Stephen Hughes is another Arsenal youngster that has pledged his future to
Arsenal despite having to fight with the likes of Bergkamp, Wreh, Anelka and
Overmars for a place. Look at Man United, the most successful English club of the
past 8 years or so, Nicky Butt, Gary & Phil Nevile, Paul Scholes, Ryan Giggs
and of course David Beckham, half a team of youngsters that have risen through
the excellent Old Trafford youth system and have fitted in perfectly with
the more established players and the overseas contingent as well. I believe that
overseas players enhance the Premiership and their technical ability, whilst generally higher than some of our players, must surely rub off on the home grown talent.

Which overseas players have had the biggest impact on the Premiership??

I`d pick out three in particular in no order of preference.

1. Dennis Bergkamp. Joined Arsenal in a blaze of glory back in 1995 when
Bruce Rioch signed him. Took his time to find his feet but once he did then he
proved that the faster pace of the English game compared to Serie A wasn`t to worry him. His first league goal in a Gunners shirt against Southampton was a taster of things to come over the next three years. He showed in the WC in
France what he`s capeable of with his amazing goal against Argentina, however
it was a mirror image of a goal that he`d scored against Leicester nine months
earlier to complete a hat trick. I firmly believe that without Bergkamp and to
a lesser extent the likes of Overmars and even Ian Wright, then Arsenal
would not have won the league last season. The 100% English back five of
Seaman, Dixon, Adams, Keown and Winterburn made it a perfect example of how
English & overseas players can make a perfect team under the right management.

2. Peter Schmeichel. Joined Man United back in the early 90`s, how many
times has the great Dane saved United points with his stunning reflexes,
remember his save against Rapid Vienna in the Champions League. United were a
struggling mid table team when he joined, the likes of Jim Leighton had been
and left, his confidence wrecked having been dropped for the 1990 FA Cup
Final replay after he`d had a nightmare first game, Les Sealey was good but
not brilliant and then only came Schmeichal. It`s a cliche, but he really does
fill the goal, his ability in one-on-one situations is outstanding and he`s
never afraid to come off his line at set pieces, even in the opponents area!!
Of course he makes the odd error, Barnsley at Old Trafford last season a prime
example, but show me a player that NEVER made a mistake. Schmeichal has saved
his club far points than he`s cost them and it`s doubtful that United would be
the commanding force that they are now without this solid first line of
defence.

3. Eric Cantona. The extraordinary Frenchman has arguably had a bigger impact
on any one club than any other import during the 90`s. He arrived in the UK in
1992 when Trevor Francis took him on a two week trial at Sheff Wed, for whatever reason he never signed fully for Wednesday and Howard Wilkinson snapped him up for Leeds United and within three months he`d helped them to the league title although to be fair he really only played a cameo role in the success. Two hat tricks at the start of the following season endeared him to the Leeds fans and I and many others were shocked when he left Elland Road for
Man United in November 92. United got off to a shaky start that season but it
transprired that Cantona was really the final piece in a superb jigsaw built
by Alex Ferguson and Cantona helped and inspired United to title victories in
both 93 and 94, however he began to show signs of the temper that had got him
into so much trouble in his native France. He was sent off twice in four days
for stamping at Swindon and rather unlucklly at Arsenal and received a
five match ban. Worse was to follow in 94-95 when having been sent off at Crystal
Palace, he attacked a fan that had verbally abused him and received a nine
month ban from the game as well as community service. He bounced back in October 95 and once again inspired United to a title win in 95-96, notably near the end of the season when he had an uncanny knack for producing late winners or equalisers as he won the title almost single-handedly. In 96-97, his impact was less impressive although he was still part of a title winning side as United once again swept to their fourth title in five years. He then shocked the football world by announcing his retirement from the game because (as we now know). he lost his passion for the game that he loved. It`s like the JFK shooting or the death of Diana, I remember exactly where I was when I heard that Cantona had retired. United missed out on the title in 97-98, their first year without him and as far as I`m concerned, it`s no co-incidence
that the two season`s where the Premiership title has gone outside of Old Trafford,
is the two season`s where Cantona had little or no involvement. Cantona was
that final piece of the jigsaw and I don`t think United have or probably ever will find the player to replace him.

I love the English game, I love the Premiership regardless of how many overseas players come over. The domestic transfer market has evolved so poorly that it`s better business sense to purchase a player from the Norwegian first division (for example) than an young Englishman from the Nationwide second division. That`s the way things are and probably always will be. I don`t honestly think that foreigners have affected the National team but that`s purely my opinion, the performances in Euro 96 and even France 98 are proof of that. The likes of Beckham, Stephen Hughes, Jody Morris at Chelsea, even Micheal Owen are going to benefit hugely by playing alongside Bergkamp, Overmars, Vialli, Casaraghi, Di Matteo, Riedle, Berger etc. The
Premiership is now very much a mixed bag of raw British talent, established overseas
stars and even a mixture of the two. It`s an exciting league with a variation
of styles that few in any other leagues can match. I`m not saying that the
Premiership is the best league in the World, everyone has a different
opinion on that, however, the foreign players that have, do, and will grace the
English game have enhanced it rather than lowered it`s standards and long may it
continue.
--
Gary Dowden - Joint Administrator (ISFA) Premiership Mailing List
Leeds United and Scotland and proud of it

http://www.footiemad.demon.co.uk
Re-Vamped, New Layout, and 100% ready for 98-99 and Euro2000
Now includes fixtures & results for all FOUR divisions.