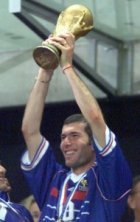 PLAYER RANKING

REFEREE 5- Not very good in my opinion. Obviously had no clue about the advantage rule. That cost delays in gameplay when the advantage rule was needed. Questionable calls on fouls. Overall very questionable.
THE IMAGES
Unforgettable images of the classic final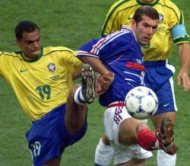 Zidane battles with Denilson, left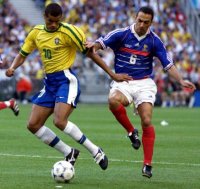 Rivaldo, left, shields the ball from Djorkaeff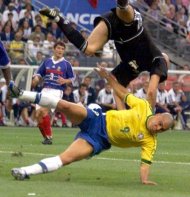 Ronaldo collides dangerously with Barthez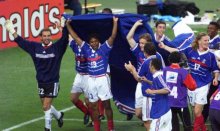 The French victory lap
FRANCE
BARTHEZ 9- Excellent. Outstanding, etc... Proved that he is one of the world's best keeper's and for me the best of the World Cup
LEBOEF 7- Very consistent and stable on the back line for France. Was helped by the excellence of his teammates, but stepped up in the absence of Desailly to withstand the Brasilian bombarding
DESAILLY 8- Excellent. Except for 2 very very STUPID cards. The cards never should have been given, and he almost cost France. Otherwise he was exceptional as a man marker and interceptor of passes.
THURAM 9- Maybe the most consistent player of the tournament. He virtually stopped Roberto Carlos from attacking down the right side of France.
LIZARAZU 9- Impeccable. Virtually neautralized the attack on his wing. Great tackling and prevention of any Cafu attacks. Excellent and another of France's most consistent players in the WC
DESCHAMPS 8- Played a great game and did a consistent job of retreiveing balls out of the Brasilian midfield. He showed great leadership after Zidane disappeared in the 2nd half.
ZIDANE 10- Man of the Match. 2 goals are almost enough said. Controlled the midfield totally in the first half. His possesion took the game from Brasil. Excellent passes and great headers off the corners.
DJORKAEFF 7- Kept Baiano busy in the center of the defence. He seemed too reluctant to shoot on goal on a few opportunities.
VIERA 7- Did not play long, but was solid. Not so great on the 1 on 1 situations though.
KARAMBEU 4- Really did nothing to help the French game. Did some man marking but his passing and crosses were inaccurate.
BOGOSSIAN 7- Came in to help the defense as a defensive midfielder. Did well in the midfield battle of the 2nd half.
PETIT 8- Had a great game. His control was a key part of the French domination. He combined well with Zidane and Deschamps. A fine goal capped his evening after getting a near-goal stopped earlier.
GUIVARC'H 3- Horrible. The biggest surprise for me was that he started, then that he wasn;t removed after 1 minute. He missed at least 4 easy chances. 2 were simple as can be, made goals in one on one situation with Taffarel. He hindered more than helped. Were it not for his errors it could have been 5-0
DUGARRY 7- Much better than Guivarc'h, though he also missed a simple goal in a 1 on 1 situation. His pass in th dying seconds to Petit was a true beauty.
BRASIL
TAFFAREL 7- Little he could do to stop the French. His defense gave him no help whatsoever.
BAIANO 4- A horrendous game. Zidane's goals were aerial balls that he is expected to win with his great height. Proved to be inept on the ground game as well. Poor game overall. Should not expect any big money offers any time soon.
CAFU 5- Hindered by great Lizarazu defending. Attacked more than Roberto Carlos but to no avail. Could not seem to beat Lizarazu or the French defense. Bad end to a great WC for him
ALDAIR 6- Was the most busy of the Brasilian defense. Forced to cover up for Baiano often. Part of an outmatched defense
ROBERTO CARLOS 5- hard day for him. An error of his led to a corner kick and a goal for France. Found the attack very difficult. Often forced to play in the center because of France's lack of right wing attack, and seemed uncomfrtable there.
DUNGA 6- The old captain was finding things difficult. Did his usual job of intercepting and recovering, but had no players to distribute to.
SAMPAIO 5- Did not play well at all in converting attacks for Brasil. Outmatched by the French midfield. Seemed as if he was not even playing at times
RIVALDO 5- So tightly marked that he could do nothing. Had no space at all to move into, and no space to pass.
LEONARDO 4- Passes were very inaccurate. Could not make or find space at all. Did nothing to help Brasil in the French first half. Removed very early.
DENISLON 7- Certainly the best Brasilian on the field. His entrance and catalytic offensive effect makes one wonder why he did not start. Hit the bar in the 2nd half. Often did much "dancing" only to be stopped by Thuram
BEBETO 5- Did nothing on the very few chance he had. Neutralized by the French defense. His experience did help Brasil stay alive in the first half, but not for long
EDMUNDO 3- A man who never lived up to his billing. "The Animal" could do nothing for the team. Completely a non- threat to the French defense.
RONALDO 3- Hurt, sick, and tired, not even "Il Fenomeno" could save the team. Marked tightly by Thuram and Desailly. He was usually forced to go into midfield just to touch the ball. It was clear that he was not game fit, physically or mentally