Who will win it all?
Manchester United can never be discounted and the purchase of Jaap Stam and Jesper Blomqvist could be a big help, however the team may take a while to settle. With Roy Keane`s fitness also possibly in doubt and the added distractions of Europe, it is difficult to see United becoming Champions this season. So who will be the Champ??
The top contender may very well be the super-fortified Chelsea, although with so many new signings arriving they could suffer the same problem as Man U- that is with so many players on the team that have never played together before. The key may be Brian Laudrup who is a top class player and is destined to terrorize Premiership defences all season. Pierluigi Casiraghi up front will surely benefit from his skill, and with such talented players Chelsea could just do it this season. Add to that Marcel Desailly of France, Le Saux, Ferrer of Spain as right back, the skillful Tore Andre Flo, Gianfranco Zola, Petrescu of Romania, and Roberto DiMatteo of Italy.
Current Champions Arsenal will be there or there abouts but a big chunk of their squad played for a long while during the World Cup. Of course French international Emmanuelle Petit was a scorer and winner in the Final, and Overmars and Bergkamp were key figures for Holland. On the downside, the fitness level of these players will play a large part in Arsenal's success or lack of it this season, my guess would be top three position behind the above two clubs.
Who will make it to Europe?
My own Leeds United have made just two purchases so far and neither are big names, Clyde Windjard and Danny Granville, so I get the impression that George Graham is happy with the players that took them into the UEFA Cup last season and the two new boys are just to strengthen certain departments. With more consistency than usual we should be able to reach Europe again and maybe even the top four. My other tips for Europe would be Liverpool especially now that Michael Owen is really showing top form, and once Robbie Fowler is back up front, the strike force will be awesome. I'd guess, the youngest in the division (and speaking of an awesome strike force), how about John Hartson and Ian Wright at West Ham, potentially lethal with the added advantage of having played together briefly at Arsenal. As long as West Ham and Liverpool stay solid at the back then they will clinch European places in my opinion. Newcastle will need to improve to make it this season. After their shock defeat of Barcelona in the 97-98 Champions' League, things went downhill. The inconsistent Asprilla wet to Parma, and now the hopes lie on the shoulders of Alan Shearer, coming off a very mediocre World Cup.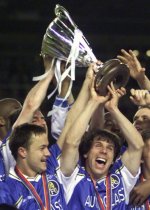 A triumphant Chelsea in the Cup-Winners Cup
Shearer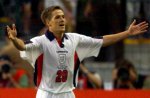 The phenomenon of Michael Owen hopes to carry Liverpool