Batistuta hopes to repeat a successful season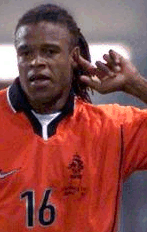 Davids hopes to lead Juve in the same way he led Holland in France
Defending champions Juventus Turin have made a few modifications to the structure that made Marcello Lippi`s eleven become succesfull to the extreme: after several attempts of getting Parma`s Hernan Crespo and Newcastle Utd. striker Alan Shearer, the Vecchia Signora settled by signing Yugoslavian Mirkovic from Atalanta Bergamo and French midfielder Blanchard from vicechampions Metz as main purchases. It`s probable that Juve surprises the market with an astounding purchase in the near future, but it seems that the lineup will not suffer major changes from the one that won the past League.

According to this tendence, players like Uruguayan forward Marcelo Danubio Zalayeta, Nicola Amoruso, and Alessio Tacchinardi will get more minutes on the field as an alternative for Zidane, Del Piero, Davids, Deschamps and company. There were a few discards, mainly the defender Moreno Torricelli (sold to Fiorentina) and the loan of Ametrano bought to Empoli and placed in Genoa.

Maybe Juventus is more interested in the vengeance ("vendetta") of the 1-0 defeat to Real Madrid in Champions League final than in retaining the Italian title. And maybe other clubs may be in position of taking advantage of that fact.

Internazionale Milan`s main man, Massimo Moratti, wants an scudetto desperately. That`s why Inter signed Italian star Roby "il divino" Baggio from Bologna, expecting to get the ideal company for striker Ronaldo, plus the unhidden talent of Djorkaeff, Zanetti, Simeone, Zamorano, Ze Elias, substitutes Kanu, Cauet, Recoba and the rest. Other signings are Ventola from Bari and Frenchman Camara from Saint Etienne, plus a huge list of Italian players to complete the "squadra" lineup.

The most important departure is no other than Francesco Moriero`s, recently sold to Middlesbrough in England. Also sent Spinesi to Bari and Luigi Sartor to Parma, but Inter` structure was enforced in addition of the good they already have, f.i. Nigerian Taribo West or star goalie Gianluca Pagliuca. Believe this reporter that Inter will not be happy to win just one of the cups, this time they go for the league.

SS Lazio of Rome also made enormous investments: the Chilean striker Marcelo Salas from River Plate, great Yugo shooter Sinisa Mihajlovic and his prodigious co-national Stankovic from Red Star Belgrade, former Barcelona Fernando Couto and Ivan de la Peņa, the opportunist Igor Protti and the magnificent Portuguese lateral defender Sergio Conceicao, among others. Some left the club, like Jugovic and Chamot both transferred to Atletico de Madrid, Casiraghi to Chelsea or Diego Fuser to Parma, but now SS Lazio has solid chances of winning Serie A, and Sven Goran Eriksson cannot hide his expectations.
Marcelo Salas of Chile and Ivan de la Peņa of Spain are 2 of the biggest imports this year
Another pugnant for the scudetto is AC Milan, after another really poor season in 97-98. To improve their performances of last year, Berlusconi`s dream and monster contracted the services of Udinese`s big men: coach Alberto Zaccheroni and bomber current "capocannonieri" Oliver Bierhoff that took Udine to UEFA Cup. Weah, Kluivert and Ganz have a luxury companion for an outstanding offensive duo in the powerful German.
San Siro will introduce some other new players next month: Danish Thomas Helveg from Udinese too, G. Ambrosini from close neighbours Vicenza, Bruno N`Gotty from PSG, the Argentinians Ayala and Guglielminpietro and Schalke 04`s goalkeeper Jens Lehman, who will be the alternative for an always unefficient Sebastiano Rosi.
The most important goodbye goes to French defender Marcel Desailly, already sold to Chelsea, but Milan have their chances renewed to get back the title that Sacchi and Capello conquered in the late 80s and early 90's.
There are some other aspirants to the Serie A crown, but their chances are less. Parma bought Argentine internationals Veron and Balbo -though also argie R.Sensini was dismissed ant sent to Sampdoria-, SS Lazio`s star midfielder Diego Fuser, Alain Boghossian and Napoli youngster Longo, a great promise.
Those plus Buffon, Thuram, Cannavaro, Croatian Mario Stanic, Crespo and a decent bench may constitute a moderate contendant to the scudetto, despite of the departure of Crippa, Adailton, Ze Marėa and Strada, who had to leave as brought by last coach Ancellotti.
Maybe Fiorentina -yet with Batistuta and the acquisitions of Guillermo Amor, Torricelli and Heinrich from Borussia Dortmund-, AS Roma -bought Russian star Alenichev- and Sampdoria with descended Lecce`s Francesco Palmieri, Grandoni and Gaston Cordoba from Racing Club of Argentina, they could entertain a competition that promises to be one of the greatest ever. Add to Sampdoria the latest big signing, Argentine Ariel "El Burrito" Ortega.
The World is looking forward to seeing show, and Futbol World will keep us informed about SERIE A at once.
Baggio is Inter's new star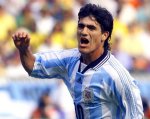 Ortega replaces his countryman Veron at Sampdoria