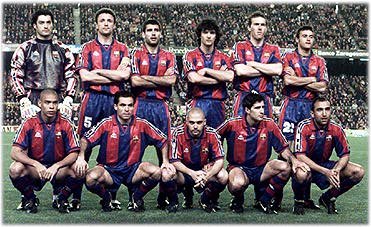 Top row, left to right: Baia, Popescu, Guardiola, Couto, Blanc, Luis Enrique. Bottom row: Ronaldo, Sergi, De la Peņa, Figo, Abelardo
The Dream Team II was an imrpessive combination of players:

Keeper: Vitor Baia was in his prime. His heroics helped establish a firm defensive aspect that the team could build on.

Defense: A great strength and a power in its time. There was a luxurious choice for sweeper, France's Laurent Blanc or Portugal's Fernando Couto. Sergi was (and remains) the left back, a key attacker. Abelardo and Catalan Miguel Nadal were the choices for the central defense. Right back belonged exclusiveley to Catalan and Spanish international Albert Ferrer.

Midfield: Property of Josep "Pep" Guardiola,the motor of the team, the brain of the team. The irreplaceable midfielder that made the team work. Gica Popescu was a defensive midfield addtion good for covering Sergi on the attack. He recovered the balls that would become goals. Ivan De la Peņa had an injury filled season but truly shone when he played. Showed the potential of a great. Amor, a Catalan and 15-year veteran of the Barcelona franchise and cantera, was often a starter, his experience was vital to the team. Figo- a true star, an absolute dynamo able to play anywhere in the midfield with ease. Luis Enrique, like Figo, could play not only any midfield spot, but any spot on the field. To this day Barcelona would be nothing without him. Giovanni was a super sub, and scored many important goals off the bench. Noted for his exquisite dribbling and touch on the ball.

Forwards: Ronaldo, Ronaldo, Ronaldoro. The star of the world thanks to his outstanding 34-goal season. Could have a been the greatest Camp Nou legend. Pizzi would either start as a 2nd forward or come in later for a midfielder. Scored 9 goals despite having Ronaldinho as a strike partner.

Overall: An amazing team. The players got along without exception. They were loved by the fans. Most importantly they played tremendously well as a team. The European Cup-Winners Cup was a small reward for their enormous talent.