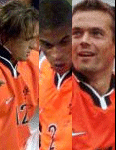 Zenden, Reizeger, Cocu
The Failed signings
Reizeger, Dugarry, Anderson, Ciric, Bogarde, Hesp- none of these players brought by Van Gaal have revoltionized the team. Only Rivaldo comes remotely close as a Van Gaal replacement for the great Ronaldo.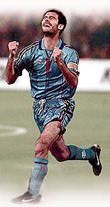 Guardiola
If he can recover from his serious injury he can return as the salvation of the club. When healthy is the best organizing midfielder in the game. He is a beautiful symbol of the Barcelona tradition, a proud Catalan that rises above all.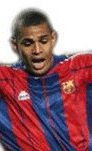 The most expensive
Sonny Anderson, Brasilian striker, is Barcelona's most expensive faliure. Monaco received an amazing $20 million from F.C.B. for this player that has never shown himself in his entire career to be better than Pizzi. Anderson did not even go to France with Brasil- he is not even one of the 22 best Brasilians, yet Van Gaal gave his arm to get him.
(Side Bar by Joaquin Bueno)
As we watch and marvel at all the recent signings and transfers of the mass
exodus of Dutch players heading into the Spanish League, particularly the
Barcelona club franchise, one cannot help but realize how a great League
Champion can reign for a whole year only to be "disposed" of in a span of
two weeks or so.

What took over this personality-laden team of such great Catalunyan players with
so much tradition of so many years? This exciting mixture of a Brasilian and
Spanish midfield comprised of Amor, Giovanni, Rivaldo, Josep Guardiola, Luis Figo and Luis Enrique, became league champion and ran away with the Spanish
title while never looking back, as they totaly dominated the last few months
of league play.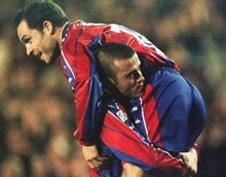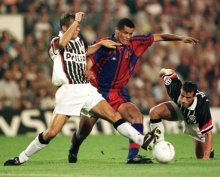 Current members that preserve their spots on the team. Sergi (l, top) is a canterano, while Luis Enrique (l, bottom) is a product of Sporting Gijon. Rivaldo (r) is the only Van Gaal-brought player to triumph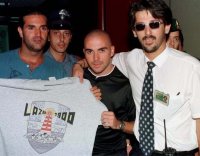 The Barcelona fans will never forgive Van Gaal and President Nuñez for selling De la Peña (center) to Lazio

We ponder about the outcome of this movement of such important players
coming and going through this great organization and wonder at the powers
that were given to coach Louie Van Gaal, giving him all the major decisions as
far as player personnel, contractual transactions, transfers, the picking of his
own staff of training, medical personnel and more importantly, full reins at
the tactical decisions and team football philosophy even if it means turning
around and changing the current method of play that has been so successful
for this franchise in recent years.

What will coach Van Gaal bring to this club that it didn't already have in its
successful past ? Pride, talent, a deep bench, great strikers, a solid midfield, an
excellent defense....these are all gifts that Barcelons has had in its successful
past. But can Van Gaal replace the great Barcelona fans ?

This is the feature of this next delicate but realistic subject....the great
Barcelona fans who have given so much to the game and to their players and
the organization itself. The great Barcelona fans who braved their low years
and gutted it out with the team in order to wait until their players along with
new signings and transfers eventually merged into what the fans have been
dreaming and hoping for......a championship team like it's treasured past.

The much awaited opening home match will showcase an overall new lineup
or for lack of a better word, a new team. I anticipate a unwelcome
reaction coming from these great fans of football, the cules . I can already hear the
boos and jeers that will echo throughout the stadium- an echo that will
bounce from one end to another as only a drastic number of wins will cure
this air of discontent. There has already eminated from the ranks of
Barcelona fans, words of boycotting the games and the many anti-Gaal
movements have gone to the streets as cries of protests has passed around
from mouth to ear within the city and its many suburbs.

It will be quite intersting to see not only the reaction of the organization and
the coaches but the performances of the new Barcelona players who will
have to take this air of discontent as either a challenge to their manhood and
professionalism or buckle into the pressure of the fans and eventually lose
faith thereby losing most of their matches, especially at home.

There is an upside to this serious debacle as the quality of players Van Gaal
had picked up are world-class level thereby giving them the incentive to
prove to their 'new' fans that this was the right move to make in order to
stake claim to another league championship and a possible European Cup to
add to the success. Optimistically, it is not an impossibility to take this
personal challenge to prove to Barcelona fans that this new breed of players
has what it takes to be a winner in the next four years and such.

Let us observe from the outside looking in, as this defending league
champion makes all the possible new changes a team can go
through in order to bring about a team for the ages. It will be a black and
white scenario, with absolutely no gray areas surrounding this soap opera, as
a new coach and a practically new team tries to attract much needed
attention and emotion from its beloved fans with only one thing in mind-- victory and success, a long-time Barcelona way of life.
Ignacio Moran