Clemente (L) and Camacho (R)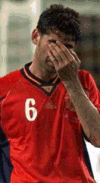 Here Fernando Hierro shows dissapointment after WC 98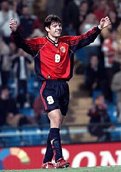 Fernando Morientes, along with Raul, is a "poster boy" of the new era
SPAIN: The new ERA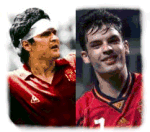 New coach Jose Camacho leads the "New Spain"
FRIENDLY RESULT
SPAIN 1 (Alkiza)
RUSSIA 0
Clemente is long gone from the Spanish side, made to quit under intense pressure and scrutiny from the Spanish media and fans alike. With his resignement, the doors were closed on an era in Spanish football filled with conservative tactics, political football, Spanish domination of opponents, and regretful faliure in the big tournaments. While Spain was a dominant team during Clemente's 6 years, losing only 6 of 62 games, critics were harsh because of the faliures in competition that counted. World Cup 94 was a dissapointment for a then-young squad, losing out to Italy in the quarters. Euro 2000 was a further disappointment. In a memorable game in Wembley in the quarters, Spain dominated England before the home crowd. Late in the 2nd half, Spain had a clear Salinas goal dissallowed for a completely nonexistent offsides call. Unjustly, the game remained tied, and the Spaniards went on to lose in penalty kicks. It was said in Spain that England not only got the luckiest break, but they also recieved a lesson in football. While the quarterfinal performance was great, critics were unhappy with a poor performance against Bulgaria andagainst France in the group play. World Cup 98 proved to be the great disaster that led to the eventual downfall of the Clemente generation. After winning the toughest WC qualifying group (Czech Republic, Slovakia, Yugoslavia, Faroe Islands, Malta) with dominating form, Spain crashed out in the first round of the WC to the disgrace and shame of a nation. The final straw was in Euro 2000 qualifying, when Cyprus unthinkably defeated Clemente and his men 3-2 in Cyprus. Clemente was unable to ride out the pressure from his humiliation, and resigned a week later.
After former Real Betis coach Luis Aragones turned down the national team job, it was offered to Camacho, coach of Real Madrid for a mere 8 days in the summer. He accepted, with the condition that he choose his own coaching staff. With the arrival of Camacho, Spain fans can expect the following- a more patriotic coach, many fresh new faces, and end to Basque preference in players, and more offensive and less conservative approach to gameplay. Here are some of the new faces you may see in Camacho's new Spain:
GK- Toni Jimenez (Espanyol)
This great goalkeeper was the best keeper in Spain last season with Espanyol. Clemente never gave him a chance to show his aptitude. Camacho was his coach at Espanyol- so expect to see him with a realistic shot at the number 1 spot.
D- Michel Salgado (Celta de Vigo)
Clemente waited until his farewell to give a chance to this rising star, but teams such as Real Madrid and Barcelona have taken note of him. The U-21 international has been impressive the last 2 seasons in Spain, and now is the only Gallego in the squad. With the exclusion of Ferrer, and the injury-prone Aguilera, Michel may become the next great Spanish right back sooner than we expected.
D- Vicente Engonga (RCD Mallorca)
Engonga may step up and become the workhorse of the Spanish team, playing the role of defender/ defensive midfielder. His great performance in recent years was far overlooked by Clemente. His toils on the field stabilized the game against Russia.
M- Ivan De La Peña (Lazio- Italy)
Ivan is said to be the best Spanish player that did not get a cap under Clemente. A perfect pair with U-21 teammate Raúl, he is the organizing midfielder that Spain has lacked since the injury of Guardiola. His form has been excellent in Lazio, and he has shown that when given the chance, he a can be the brilliant playmaker and brain of the team.
M- Francisco de Pedro (Real Sociedad)
De Pedro's outstanding form led Real Sociedad to a great 3rd place finsih in last year's Liga. He is a strong midfielder with an impressive workrate. He could be an important part of Camacho's new midfield.
M- Bitor Alkiza (Athletic Bilbao)
Alkiza made his dream debut on the national team with the winning goal against Russia, a perfect shot from outside the box. He is an old fashioned footballer with a nose for goals. He is another hard worker in the midfield, and part of Camacho's plan to add depth, strength, and direction to the midfield.
F- Jordi Lardin (Atletico Madrid)
Clemente took the good form of Lardin for granted both last season and this preseason. He is a dangerous forward that can also play on the left wing. He terrorizes opponents with speed and a sense of goalscoring. He gives the attack a surge of strength, speed, and skill.
F- Jose Mari (Atletico Madrid)
Jose Mari has played for Clemente, but only on the U-21 level. Now with Clemente out of the way, he may finally get a shot at the big-time. At only 21 he is showing great promise, and now in Vieri's absence, he is taking a much larger role at Atletico. He is a great scorer who seems to glide past opponents with his exquisite handling.